The guest of honor of Canlandıranlar Festival, this year, is Italian director Alessandro Rak, with his last film The Art of Happiness.
There are selections from the famous international festivals; Annecy, View and O!pla in the screening program of the festival. Screenings also includes the new animation films from Turkey and Canlandıranlar Talent Camp.
The mastership films of Frederic Back to be also screen in the name of him. There is also a special section for the audience with impaired hearing and for audience with impaired vision.
Festival events consist of a talk with guest director Alessandro Rak and a panel about relationship between the animation and contemporary art.
Guest of Honour: Alessandro Rak
Alessandro Rak was born in Italy in 1977 and graduated from Centro Sperimentale di Cinematografia Film School in Rome. He is a cartoonist, animator and filmmaker. Along with Andrea Scoppetta as the animation studio Rak&Scop, creating a fruitful artistic partnership that in a few years has produced entertainment but also comic books and studies, demos and character designing for various production companies. His most important work is the 2013 made film The Art of Happiness of which he is a director and co-writer. The film was selected for 70th Internatonal Venice Film Festival and premiered publicly at Lucca Comics and Games 2013. The film has won the best film prize in various fstivals. Besides his first feature The Art of Happiness, Rak has also awarded short films and videos.
The Art of Happiness
The feature film of Canlandıranlar Festival is the new film (2013) of the guest Alessandro Rak; The Art of Happiness (L'arte della felicità).
The first run of this film 2D/3D hybrid helmed film was in the 70.Venice Film Festival.
The story of the film is about two brothers, two continents, two lives…but one soul! The day Neapolitan taxi driver Sergio receives a letter containing bad news, he is confronted with his past. And what he sees is a lonely man of forty who has turned his back on his life as a musician and a dear brother. Regrets and buried memories surge forth from his taxi, but perhaps there is a glimmer of hope.
Canlandıranlar Animators Talent Camp Films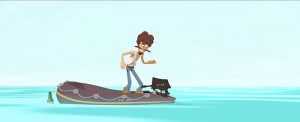 Directors who want to make their animated shorts send their projects to the selection of Canlandıranlar Talent Camp. The accepted projects are followed for an entire year throughout all stages of production: scriptwriting, storyboard, production, sound, music. Professional consultants are called to give advice, production companies give technical support at various stages. At the end, the short films are presented at a Gala evening of the Canlandıranlar Film Festival. Subsequently films are sent to international festivals. During the Canlandıranlar Festival the gala of the latest films takes place at the opening night and all of the Canlandıranlar Talent Camp films are screened at Istanbul Modern.
Italy Selection
Italian film scholar Paola Bristot with composer, sound-designer and promoter of animated film, Andrea Martignoni deal with uniting the circuit of animated film artists, give an opportunity to contemporary authors to reach an international audience. In the two parts of the Italian Selection in Canlandıranlar Festival consists of the films from their archives.
Poland Selection
The Festival of Polish Animation O!PLA was created by the independent cultural project Animation Across Borders. Animation Across Borders, which started in 2012 focuses on distribution and promotion of, animated films.
The main aim of O!PLA is delivering the art of animation, to all the people in the country with screenings of films and organizing workshops or educatioanal meetings.
Animations from Turkey
In Memory of Frédéric Back
The animation master, whose been lost battle against cancer last year at the age of 89, Frédéric Back, was a famous awarded artist by both his drawings and animation films. Back had been nominated for Academy Awards for 4 times and won the Oscar two times; in 1981 with his film Crac! And in 1987 with his film The Man Who Planted Trees. He worked many years in Radio Canada and put his signature under many projects, he was also the creator of the work of art at famous Place-des-Arts station of Montreal Subway in 1967.
Selections From Festivals
Canlandıranlar Festival made a selection from the 2013 film lists of important international festivals. The films Ab Ovo, Around The Lake, Because I'm A Girl, Feral, Gloria Victoria, Rabbit and Deer, Subconscious Password, Tresspass, The Triangle Affair are selected from the Annecy Festival which has a history of more than 50 years. And the films Shave It, Batz, A La Françise are selected from the biggest 3D festival in Italy, VIEWFest.
Accessible Screening
Everyone has a right and freedom of tasting a good animation film! This is what Canlandıranlar Animators Festival believes. With the support of Ankara Accessible Film Festival, Canlandıranlar Animators Film Festival has included Goro Miyazaki's From Up on Poppy Hill to its program.