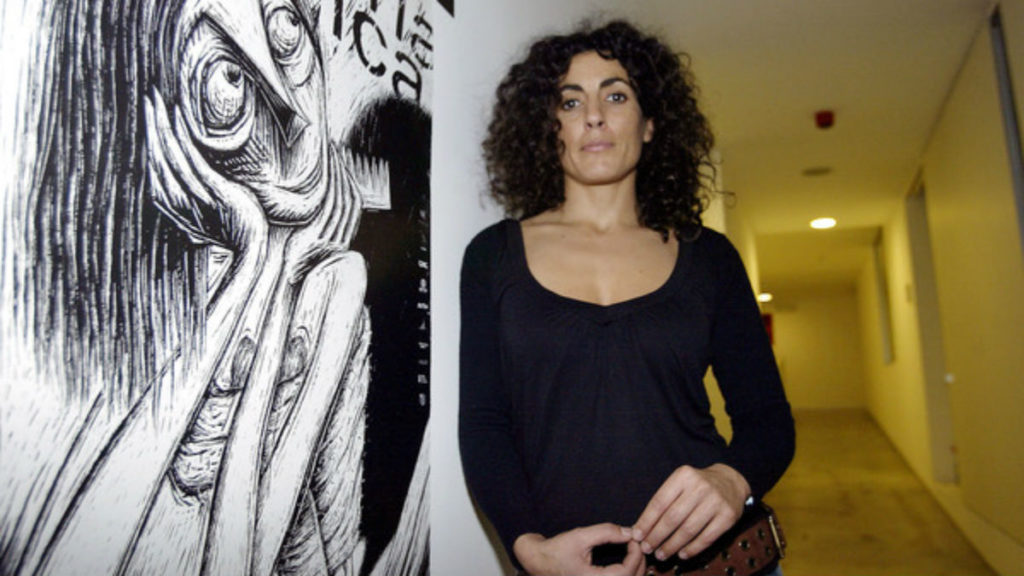 Regina Pessoa, born in 1969, is an Animation Director from Coimbra, Portugal. She directed and animated her first independent film in 1999 titled The Night, followed by Tragic Story with Happy Ending in 2005.
In 2012, she directed Kali the little Vampire, a co-production between Portugal-France-Canada and Switzerland. She is currently working on Accounting for the Days (working title), a co-production between Portugal-France-Canada.
Her films have gone on to win prizes around the world, including Grand Prix Annecy 2006, Grand Prix Animated Shorts SXSW 2007, Oscars 2007 Shortlist, Hiroshima Prize 2012, and has twice been a finalist for the Cartoon d'Or (in 2006 and 2013).
In all her films she uses different techniques, from plaster to computer or as she likes to say: "from stone to pixel".
Her last film : Uncle Thomas, Accounting for the Days won Annecy 2019 Jury Grand Prix award.
FILMS OF THE GUEST OF HONOR 
REGINA PESSOA
THE OUTLAWS
Portugal, 14',1993, B&W
Director: Abi Feijo
Animation: Tania Anaya, Laura Carvalhosa, Lino Dias, Graca Gomes, Raquel Morais, Felipe Moreira da Silva, Clidip Nobio, Regina Pessoa 
Producer: Jorge Neves
In the 40's, after the Spanish Civil War, many republicans defeated by the nationalist forces of Franco found refuge on the bordering mountains in the north of Portugal. Some saw them as brigands, others gave them shelter and helped them on the sly to police forces of Salazar. 
FADO LUSITANO
Portugal, 5'35", 1995, Color, Portuguese
Director: Abi Feijo
Animation: Graça Gomes, Abi Feijó, Zé Carlos Pinto, Regina Pessoa
Music: Manuel Tentugal 
Production: Jorge Neves
Portugal feels himself as small country in the tip of Europe. He has a roving heart, an adventurer spirit, a grived soul and an obedient body.
STOWAWAY
Portugal/Canada, 7'40", 2000, Portuguese
Director: Abi Feijo
Script: José Rodrigues Miguéis "O Viajante Clandestino" – "Gente da terceira classe"
Animation: Abi Feijo, Regina Pessoa
Music & Sound: Tentugal
Producer: Marcel Jean, Abi Feijo 
On a cold and dreary Christmas Eve, in a glommy fogbound seaport, docks a tired old freighter. Deep in its hold, a stowaway is hiding. The crew members leave the ship and go their separate ways. After nightfall, the stowaway tries to make it to dry land by sliding down a rope, but he is paralysed with fear. 
TRAGIC STORY WITH HAPPY ENDING 
Portugal, 2005, 7', Non-dialogue
Direction, Script And Graphics: Regina Pessoa
Animation: Regina Pessoa, Sylvie Léonard, Laurent Repiton
Sound Design & Music: Normand Roger
Voice: Elina Lowensohn, Manuela Azevedo
Producer: Jacques-Rémy Girerd, Patrick Eveno, Abi Feijo, Marcel Jean
A little girl finds acceptance in embracing her own difference. This lyrical animated film has the timeless charm of an old fable – one whose subject is difference and self-affirmation. Through images evoking the rich texture of a woodblock print, the filmmaker has created a world of contrasts complemented by a lively soundtrack with a rhythmic beat. 
KALI, THE LITTLE VAMPIRE
Portugal/France/Canada/Switzerland, 2012, 10', Color, English
Direction, Script And Animation: Regina Pessoa
Music: The Young Gods
Voice: Christopher Plummer, Fernando Lopes
Producer: Abi Feijo, Julie Roy, René Chénier, Pascal Le Nôtre, Georges Schwizgebel, Claude Luyet
He lives in the shadows. The one who inspires fear. The young vampire Kali does exist, and suffers from not being able to live in the light. One day, while once again watching the other young boys play beside the train tracks, he breaks from his isolation and discovers that because of who—and what—he is, he can make a difference in others' lives. 
UNCLE THOMAS – ACCOUNTING FOR THE DAYS 
Portugal/France/Canada, 2019, 13', Color, English
Direction, Script: Regina Pessoa
Animation: Regina Pessoa, André Marques, Sylvie Trouvé, Dale Hayward, Marc Robinet
Soukaïna Najjarane, Nils Delot
Voice: Regina Pessoa, Abi Feijo
Producer: Abi Feijo, Julie Roy, Reginald de Guillebon
Film is about the special relationship between Regina Pessoa and her uncle. The film is a testament to her love for this eccentric, who was an artistic inspiration and played a key role in her becoming a filmmaker.