AN EYE FOR AN EYE
2018, 17′, Non-dialogue  
DIRECTING: Julia Płoch
SCRIPT: Julia Płoch
EDITOR: Julia Płoch
MUSIC: Mikołaj Tkacz
ANIMATION: Julia Płoch
PRODUCTION: Akademia Sztuk Pięknych, Pracownia Filmu Animowanego
The films action is based on a myth of a hero's journey. The film's action takes place over a large lake, one of it's banks is inhabited by frogs. They tell stories about the ancient God –  huge Catfish, living on the other side of the waters. In the movie we follow the fate of two characters: Red Frog – a mythical hero who left home seeking the truth in his kin's beliefs, and Little Frog – a child who wants to follow in his hero's footsteps. As the plot reveals itself their fates are intertwined and some of the secrets are dissolved
CHRIST OF NATION
2018, 9′, Non-dialogue  
DIRECTING: Ewa Drzewicka
SCRIPT: Ewa Drzewicka
EDITOR: Ewa Drzewicka
MUSIC: Michał Fojcik
PRODUCTION: Robert Sowa
Life in Krakow goes slowly. Pigeons fly, and the lady with the Krakow's pretzels waits for the hungry tourists. HE watches over the security of the city, but the danger is hanging in the air.
COMFORT
2018, 9' 35", Non-dialogue
DIRECTING: Weronika Banasińska
MUSIC: Adam Skrzypkowski
SOUND: Adam Skrzypkowski 
PRODUCER: Animation Film Studio in Kraków
A girl visits a mysterious place which appears to be her inner self. In her journey into sensory exploration excitement soon turns into feelings of anxiety, as overstimulation finally throws her into a child-like state.
CTRL + C
2017, 2', Non-dialogue  
DIRECTING:  Kamila Kasprzykowska
Multiple copies in specific order of one simple form create new shapes, suprising the viewer. Today's world, full of digital tools, not only can help create new forms, but also inspire us to find new ones.
SQUARING THE CIRCLE
2018, 4', Non-dialogue  
DIRECTING: Karolina Specht
SCRIPT: Karolina Specht
EDITOR: Karolina Specht
MUSIC: Paweł Cieślak
ANIMATION: Karolina Specht
PRODUCTION: PWSFTviT 
At first glance, it seems that SQUARE lives among chaos and andless changes. But next, we can notice that the systems in which he functions, are constantly repeated, introduce a routine, hypnotize without allowing any movement. Once, a new element sneaks into the pattern, which for a moment will allow SQUARE to look a little differently at reality.
SQUARING THE CIRCLE is full of graphic metaphors, a semi-abstract story about an impossible feeling.
BLESS YOU!
2018, 5', Non-dialogue  
DIRECTING: Paulina Ziółkowska
SCRIPT: Paulina Ziółkowska
EDITOR: Piotr Baryła
MUSIC: Max Litvinov
ANIMATION: Państwowa Wyższa Szkoła Filmowa, Telewizyjna i Teatralna
Everyone gets sick of everyone. But things become really bad when you get sick of yourself.
MARBLES
2019, 5', Non-dialogue  
DIRECTING, SCRIPT: Natalia Spychała
ANIMATION: Natalia Spychała, Urszula Domańska, Katarzyna Adamkiewicz
PRODUCTION: Szkoła Filmowa im. Krzysztofa Kieślowskiego
Hypnotizing pendulum sets a particular mechanism in motion. A figure appearing fragmentarily, space and a variety of objects form a rhythmic system of mutual dependence. Sound interweaves with image, creating music of repetitive events. 
CAGES
2018 / 2'42", Non-dialogue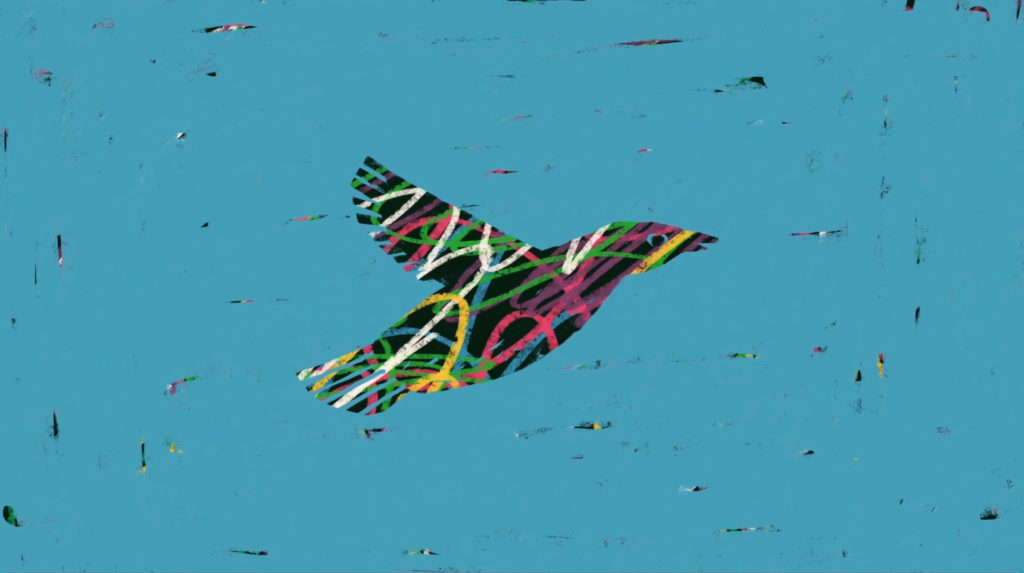 DIRECTING: Magdalena Marchocka 
A short story about loneliness, metaphorical confinement and overcoming once's fear.
ROUTINE
2017 / 5'18", Non-dialogue
DIRECTING & SCRIPT:  Valeria Dakhovich Molchanova
A young man trapped in a daily routine where every single day is so very similar to the previous one
CROSSFIRE
2017 / 4'31", Non-dialogue
DIRECTING: Aleksandra Lekszycka
An unofficial animated music video of Crossfire – STEPHEN.